Hi!
I have been showing here some sceneries that I have been working on. All of the sceneries below are now available at
www.fsnordic.net
File Library freely to download.
Let's begin with a general update for the whole Finland.

Finland Base Pack
.
At the moment it includes Water class and the most accurate mesh data for the whole country. (10m mesh)
An update to version 1.1 adds some objects necessary to other sceneries and street lights for biggest roads in Finland. (The street lights are actually true to life parts of the roads, but sadly only the biggest roads)
FIN_Obstdata
Finland obstacle data includes the tallest masts, chimneys, windmills and some construction cranes for the whole country of Finland. I haven't had time to model many towers but the tallest one "Näsinneula" in Tampere is included. (Also in the screenshot below)
The masts, chimneys and windmills are modelled in their correct height above ground.
You need SODE module for this scenery.
Finnish lighthouses
I have shown screenshots of this scenery before and the scenery and it's various versions has been available at FSNordic forum but this is the first major release. (Although I call it version 7)
The scenery includes dozens of Finnish lighthouses with correctly modelled light sequence but no sectors in the lights.
At some point "I totally lost it"
and added seamarks to FSX. The seamarks are in their real life positions some of them even in the biggest lakes in Finland. You might think this is total madness in the Flight sim, but they actually spice up the coast nicely and very beautifully the archipelagos. You might not want to keep this scenery active if flying airliners to the biggest airports in Finland.
The included seamarks are:
Lateral marks
Cardinal marks
Safe water marks
Isolated danger marks
Byous

If you download Finnish lighthouses scenery, make sure you update the seamarks from this zip file.
http://www.tatukantomaa.net/FSX/FIN_Lighthouse_Seamarks_fix.zip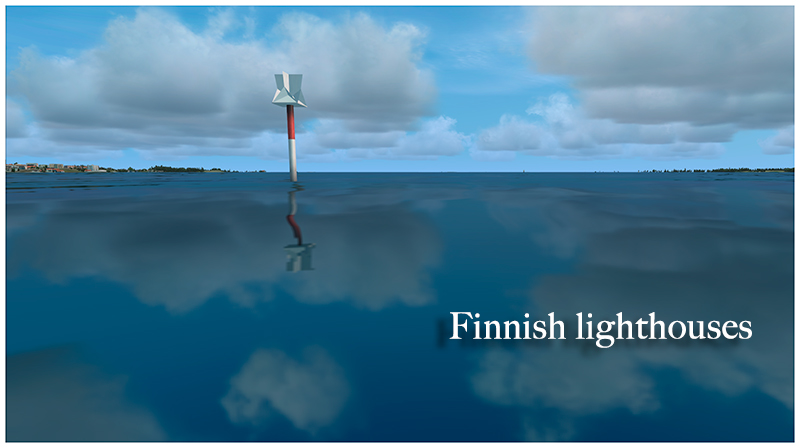 I am not fin(n)ished yet.....
Next up is my beloved Rovaniemi.
Rovaniemi revisited 3
The real life EFRO got a new asphalt and new runway lights last summer. So I have updated the scenery and created new runway light systems using SODE module. For the first time... also the two jetways are animated using SODE.
Uninstall the previous version, Rovaniemi revisited 3 includes a new polished Rovaniemi scenery.
And last but by no means the least.... actually this is the biggest one of all similar to ORBX region sceneries:
Postcards from Lapland

This unusual name comes from the fact, that the scenery has many photoreal areas that represent the beauty (or ugliness) of Finnish Lapland. All Lapland airports have now photoreal surroundings with seasons and autogen. It was not possible to include any real life 3D models of airport buildings and such but the terrain looks much better. For those of you who are not familiar with the landscape I recommend checking the surroundings of all the airports listed below. I'll quote the manual here.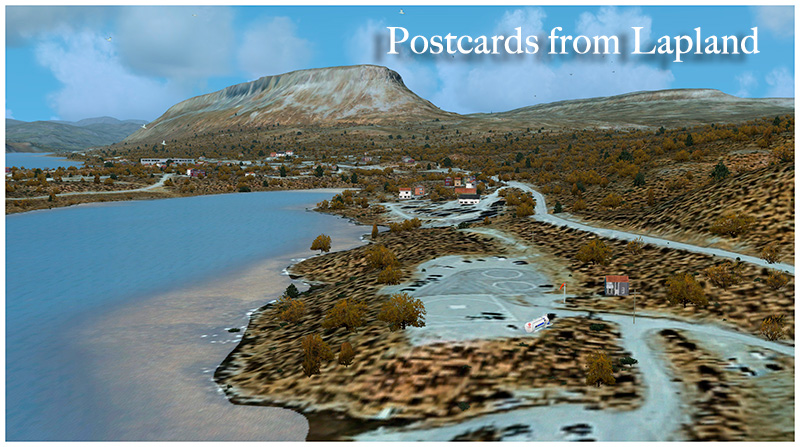 Kilpisjärvi helipad
Detailed waterbodies
LandClass raster
LandClass polygons
Detailed roads and railways
2-5m mesh for selected areas
Utility lines divided in two main parts:
High voltage electric lines have masts in real life positions (thousands of them in Lapland area)
Lower voltage electric lines have masts in generated positions (tens of thousands in Lapland area)
Enhanced airports. All Lapland airports have an enhanced AFCAD layout
EFAA - Aavahelukka (Close to Äkäslompolo, Ylläs)
EFEK - Kilpisjärvi helipad
EFET - Enontekiö
EFIV - Ivalo
EFJP - Jäkäläpää
EFKE - Kemi-Tornio
EFKM - Kemijärvi
EFKT - Kittilä
EFMP - Martiniiskonpalo
EFPA - Pokka
EFRU - Ranua
EFSO - Sodankylä
EFRO - Rovaniemi has it's own detailed scenery and is not included in this package.
The Lapland scenery is divided in two parts:
Lapland_basic (airliner mode)
Lapland_added_detail (VFR mode)
For the basic part only the biggest airports are active, less roads and other details. When you add the detail part in active sceneries you get very accurate model of Lapland. Great for VFR flights.
(Note: Lapland_basic must be active with the detail part)
No Grand canyon, but the canyon in Kevo looks great in sim too.



Ylläs close to EFAA - Aavahelukka airfield



Olostunturi close to village named Muonio


So there you have it. Thank you everyone who have helped me here in the forum, especially thanks for authors of wonderful tools. Arno's ScenProc has been running hot in my computer...
Also thanks for SODE, SBuilderX and ADE.
Merry Christmas. I will try to check here in case you have some problems or questions and you can also reach me through E-mail that you can find on the manuals of these sceneries.
Last edited: