Hi, this is really a message and request for Arno,
Arno, I have followed your video tutorial on CAT, it seems the prog has changed since then, more options on the first screen etc... basically I have a normal gate (NOT a jetway)... My plan is to get this gate to open when I am within 50 meters and NAV2 Frequency set to 112.00... I have done (i think) correct in CAT - however, the gate doesnt move at all, using the same MDL I can get the gate to open when I am within 50 meters, but it does not reverse close, besided, I'ld really like to control when it opens and closes (reverse animation) with that NAV2 frequency inside the distance.. Here are some screenshots of CAT:
Welcome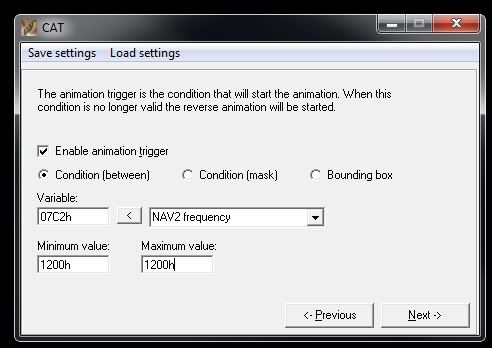 That is the exact process I took to try and accomplish what I wanted, so from that, you would be expecting to see a gate that opens when the user is within 50 meters of the gate with NAV2 turned to 112.00 wouldn't you? Well, nope, for some reason, this gate doesnt even move!
Please, this CAT appears to have new interface, please new tutorial Mr. Arno!!