After trying to add a batch mode to AgenT vegetation detection with Macro Agent... Based on the principles of AgenT creator: Lars Hoyer, I've tried to make a new tool that I named very modestly VogelTree
!!! based on excellent Arno's DLL !!!
it's an utility dedicated to creation of sparse vegetation on AGN files from images derived from FSearthTile bmp format. The operation is almost identical to "Agent" with a few differences:
- Processing of batch files.
- support "Area_*********" bmp or tga file from FsearthTile and "xxxxxxxxxxx.Su.bmp" from FS2004,
!! At that time the Picture must have LOD13 width !!
- support DXT compressed BMP (thx to Arno
)
- The algorithm can be adapted to 10 profiles based on a personnal "brightness" value of picture.
- A special algorithm (filter 1) * detection of vegetation was coupled with the detection of the brightness function like AgenT(filter 2) .
- Possibility to change the settings of those two algorithms.
- support of FSX and FS9 out. (one more thx to Arno
) (with polygon number limitation if needed)
* Algorithm to differentiate plain area (field) of "rough" area (bushes, trees).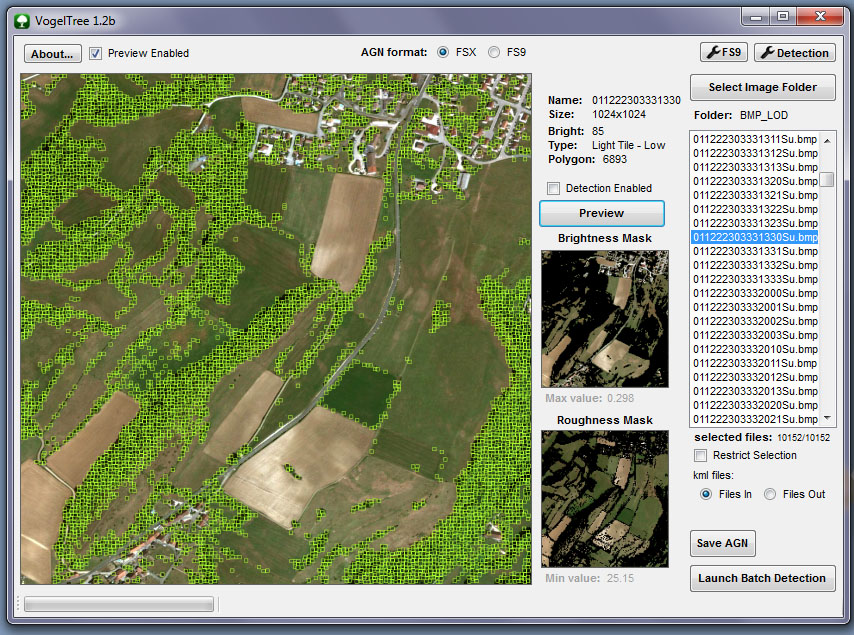 Information about settings :
I arbitrarily defined ten category based on an almost average brightness of the image.
It is possible to set thresholds and transitions between two categories.
For each category it is possible to set both maximum values ​​of the two algorithms.
Filter 1: "Rough", higher is the value, more "scrubby"/"Rough" must be the area to be validated.
Filter 2: "brightness", smaller is the value, darker must be the area to be validated.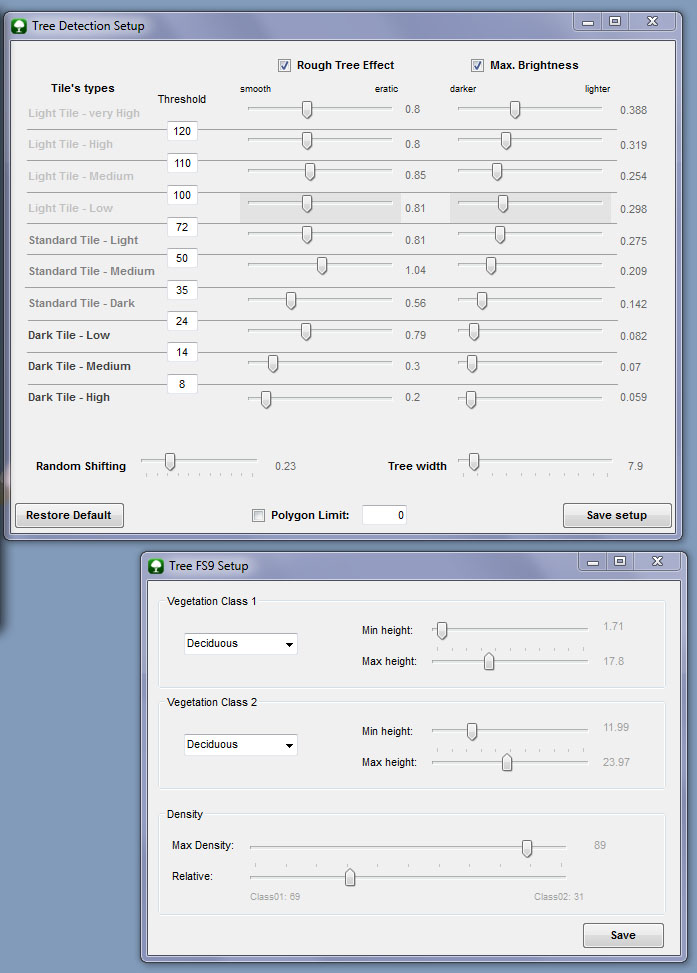 Advice:
- the default parameter of this tool are more adapted to work with picture of 1024x1024 resolution. adjustement are surely needed.
- higher is the resolution, better is the detection, more time by frame is needed.
- It work with 256x256 picture but you need to desactivate the "rouh" filter to work with.
Well so far I have tested the product quickly and it seems to work not too bad ... although it should probably make some adjustments on the detection settings. New algorithm to further refine the detection probably ... Research can continue. test it if you want ...
In fact it is still a beta version so still full of bug and surely many other oversights. Indulgence desired
the tool:
VogelTree 1.4 beta
french post on pilote-virtuel translated
Last edited: